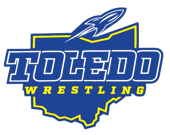 Jacob Meek Posts Strong Start to the 2023-2024 Season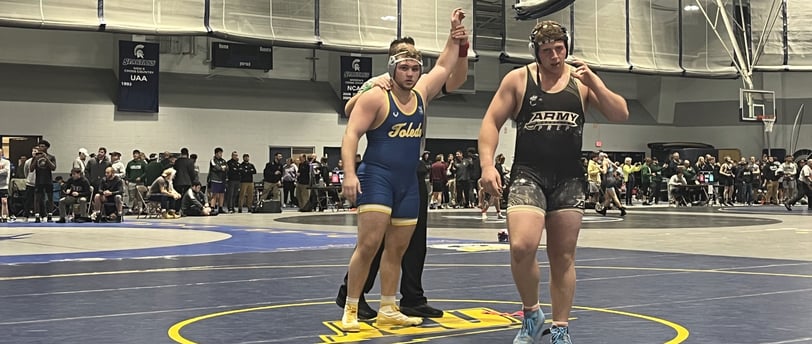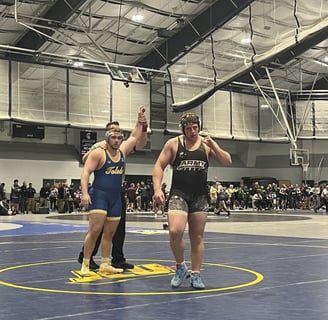 The Toledo Rockets haven't dropped off much since the end of the 2022-2023 season, where they finished a record-high 6th place in the NCWA-D1. Fueling the season early for Toledo has been Senior standout Jacob Meek (Oregon Clay HS). Meek finished in 3rd place at 285 at the 2023 NCWA National Championship in San Juan, PR to claim All-American honors.

Meek's focus in the off-season was to get stronger and eventually cut down to the 235-lb weight class for team strength, as the Rockets added two traditional heavyweights to the roster in the incoming freshman class (Quinton Smith - Sherwood Fairview HS and Caleb Nwokolo - Toledo Bowsher). While determined to get down to 235 for the NCWA portion of the season, Jacob first has to run the gauntlet of NCAA competition that only features a 285-lb weight class.
The first test of the season came at the Mott Fall Brawl on October 29th. Jacob defeated all 3 of his opponents to claim the 285-lb championship in this event with pins over Khnanisho (Grand Valley State WC) and Meli (Mott CC) along with a 17-6 major decision over Arabello (Southwest Michigan College). Joining Meek in the championship podium for the Rockets was Ezekiel Burkholder (So, Lima Bath HS) going 3-0 at 174 lbs with victories over Andolsek (Akron), Rush (Henry Ford College), and Rowley (Mott CC). Also placing for Toledo were Landon Kiser (2nd at 125, 2-1), Tony Pendergraff (4th at 141), Zachery Snyder (3rd at 165), and Quinton Smith (3rd at 285).
Next up for Meek and the young Rockets was a true NCAA test in the Adrian Invite. The tournament features stiff competition in two divisions: an open (Junior/Senior division) and Freshman/Sophomore division. Competing for the Rockets in the Open division were Isaac Plamondon (Jr, Saginaw Valley Lutheran HS), Antwain Williams (Jr, Toledo Whitmer HS), and Jacob Meek. Meek garnered the #1 seed in the tournament but was upset by eventual finalist Demitrius Hernandez (Heidelberg). Jacob would record a pin over Cepak (Siena Heights) and a 10-4 decision over Belgiorno (Heidelberg) before falling 8-4 to Stohl (Wabash). In the 5th place match, Meek made quick work of Daniels (Adrian). In 2022, Meek placed 8th in this tournament.
In the F/S division, Kiser went 2-2 at 125 lbs with wins over Henry (St. Vincent College) and Bloom (Jamestown CC). Nwokolo went 1-2 placing 5th at 285 with a clutch pin over Burns (St. Clair County CC). Also competing in the division were Evan Hanefeld (Fr, Delta HS), Sooraj Sivadev (Fr, India), and Quinton Smith.
Wrapping up the early tournament schedule, the Rockets headed to Case Western for the 2023 Bob del Rosa Ohio Intercollegiate Open. This tournament is one of the tougher opens in the midwest featuring top opponents from NCAA-D1, D2, and D3 along with several other NAIA and NJCAA squads. Wrestling in the open division were Plamondon (0-2 at 157), Snyder (0-2 at 165) and Meek (3-1 at 285). Once again, Meek was the team leader reaching the semi-finals by defeating two tough opponents in Sam Sorenson (Army Prep) 7-3 and Byron Pierce (Midway) by pin in 4:41. In the semi-finals, Meek ran into Mason Cover (Cleveland State) losing 17-1. Meek would receive a win by medical forfeit over Clayton Ours (Tiffin) in the 3rd place match and is now 9-3 on the season and ranked #1 at 235 in the NCWA. This is the highest finish for a Toledo Rocket in the open division of the tournament. [Note: Kaden Blair was the 133-lb Champion in 2022 at this tournament but in the Freshman/Sophomore division]. Wrestling in the F/S division were Kiser (2-2 at 125), Williams (1-2 at 157), and Burkholder (0-2 at 165).
The Rockets will face Southwest Michigan College (SMC) in a dual at Anthony Wayne HS on 11/17/23 as part of the 2023 Thanksgiving Classic.